In 1999, Shukoor Ahmed Founder of V-Empower, Inc. created www.statedemocracy.org to facilitate citizens and help them connect with their elected officials.

Shukoor ran for Maryland House of Delegates in 1998 in District 23A (Bowie, Prince George's County area). Despite his status as a naturalized citizen who only recently immigrated from India, and without deep ties yet in the district, his campaign proved to be a profound experience that helped Shukoor understand the challenges common citizens face -- most notably their difficulty in locating and communicating with their elected officials. During his door-to-door campaign, he was amazed to find that over 75% of the citizens lacked the very rudiments for democracy--because they didn't even know the names of their own State House representatives!

Using his solid background in Math (B.S.) and Computer Science (M.S.), Shukoor teamed-up with some friends and launched www.MDdemocracy.com in early 2000. The website successfully enabled citizens throughout Maryland to dialog with their lawmakers, by merely providing their zip code and clicking to send.

This initial success and the booming technology market propelled him to take his concept nationwide. Shukoor quit his job and begun working full time with some friends, notably Ken Laureys, who had a two-decade background in nonprofit advocacy, and a Master's degree in Government and Politics. In short order, three major companies were launched with significant investments by venture capitalists:

www.voter.com
www.speakout.com
www.grassroots.com

Each of these companies raised over $24 million…and went belly-up in less than 18 months. The only survivor was www.grassroots.com and it is still in business. However, the team behind Statedemocracy.org continued building upon its vision of civic engagement, but without a dime more of venture capital. Instead, Shukoor's determined vision was funded largely by loans from his supportive family, friends and personal credit cards!

In 2003, after some 3 years of investment and hard work, V-Empower incorporated the Statedemocracy.org Foundation as a 501(c)3 non-profit, dedicated to continually improving the ability of citizens to connect with their elected officials. Over its history, the dedicated people behind StateDemocracy.org are proud to have helped some 114,000 citizens participate in their democracy, with over $300,000 contributed by V-Empower to the Statedemocracy.org Foundation to make Shukoor's civic dream a powerful democratic reality!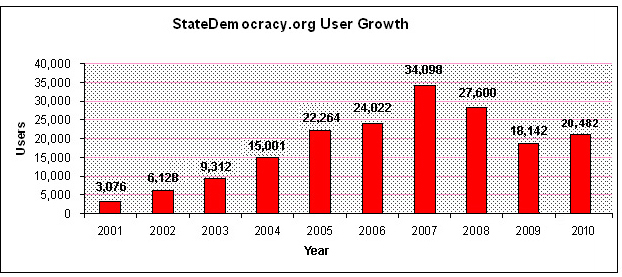 In 2008, as candidates focus ever-increasing expenditures to get elected, it seems there is ever-fewer resources dedicated to facilitating democratic participation by our citizenry. But StateDemocracy.org continues to improve its civic engagement tools. The revamped website now offers more than just a connection between citizens and their lawmakers. Users now have tools allowing them to access voter registration and absentee ballots, as well as to locate their polling place.

In 2007 alone, V-Empower contributed over $ 90,000 to revamp and expand the features offered by www.StateDemocracy.org as a public service to America's voters. An effort is underway to strengthen the StateDemocracy.org Foundation Board of Directors with new blood, while also seeking sponsorships from corporations and benefactors.

We closed State Democracy Foundation in December 2010 both the web application and legal non-profit entity. We would love to share our technical know-how, source code and our experience with those who are interested and they could contact shukoor at v-empower.com.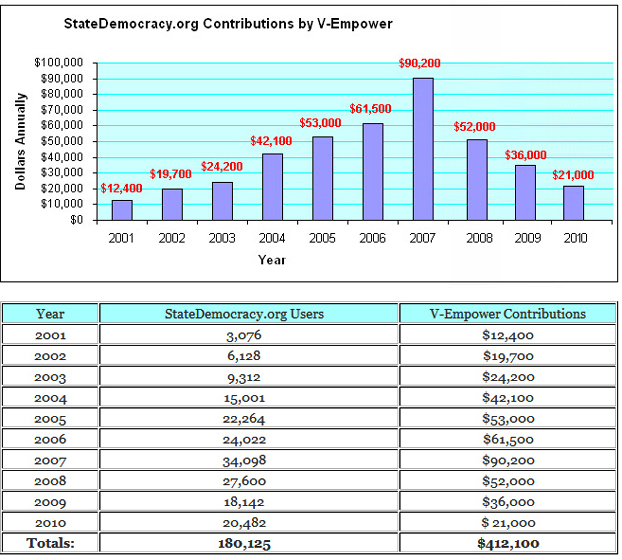 V-Empower Philanthropy